Spring Cleanup will begin 15th of February 2022 and last for 2 weeks.
It consists of:
Karma Tokens (the thumbs up)
A Spring Cleanup Box a box with 7 new items and their variants. Opened with Karma Tokens.
2 Spring Cleanup Quests that run for a week each. You gain Karma Tokens through them.
2 Spring Cleaning Master Packs which have Karma Tokens and currencies.
There are two Spring Cleanup Quests. One starts 15th of Februry and the other 21st of February.
They both last for 1 week each. The Quests have 4 Quest Steps a day with each providing 4 Karma Tokens. The quest will unlock the days like Wumples in the background. When the timer reaches 0 (in the next day) you can "Claim" that step to get the new day's tasks. That "Claim" will reward 3 tokens.
If the entire week's Quest Chain is completed, you get a bonus number of 25 Karma Tokens!
This is very important: Each quest is independent. If you start Week #1 quest and take a break from the game, you must get back BEFORE the Week #1 quest ends on day 7. You will be able to attempt completing all the steps (all days will be unlocked).
The Spring Cleanup Box will be present in the store from 15th of February to 1st of March.
It costs 5 Karma Tokens to open a Box. Like a Sweet Treat Showdown box, you will get 1 new variant every time a box is opened.
The rewards from the Spring Cleanup Box are 2 new CAS items and 5 BB items.  Each item comes in 6 variants.
Once all items and variants are collected, the box will be completed!
Excess Karma Tokens will be converted to Simoleons at the end of the Spring Cleanup.
The Spring Cleaning Master Packs will run on Feb 20 and Feb 26 for 2 days each.
They cost 2.99 USD (or regional price) and give 70 Karma Tokens, 3 Cupcakes, and 70 SimCash.
Tap on the images to expand: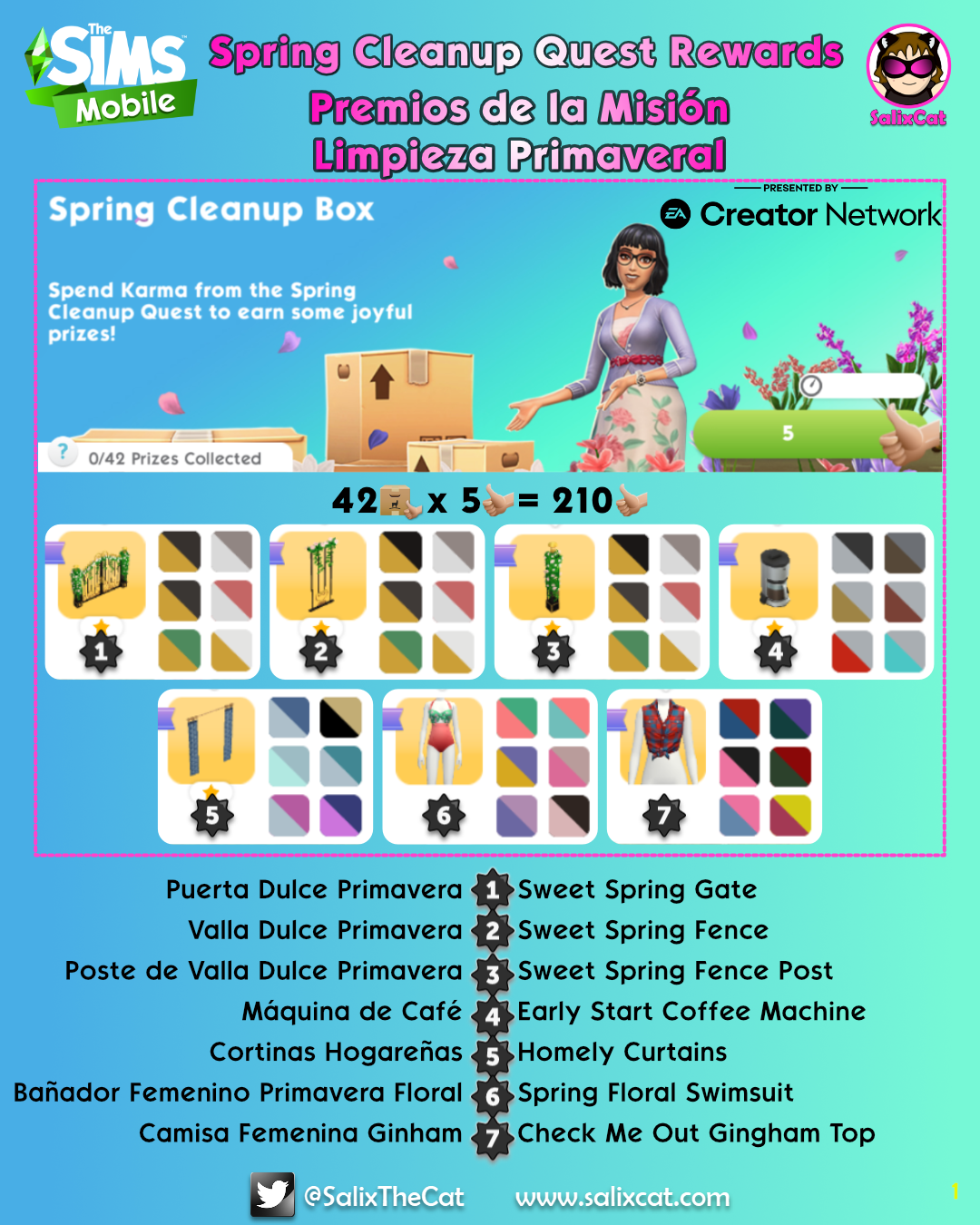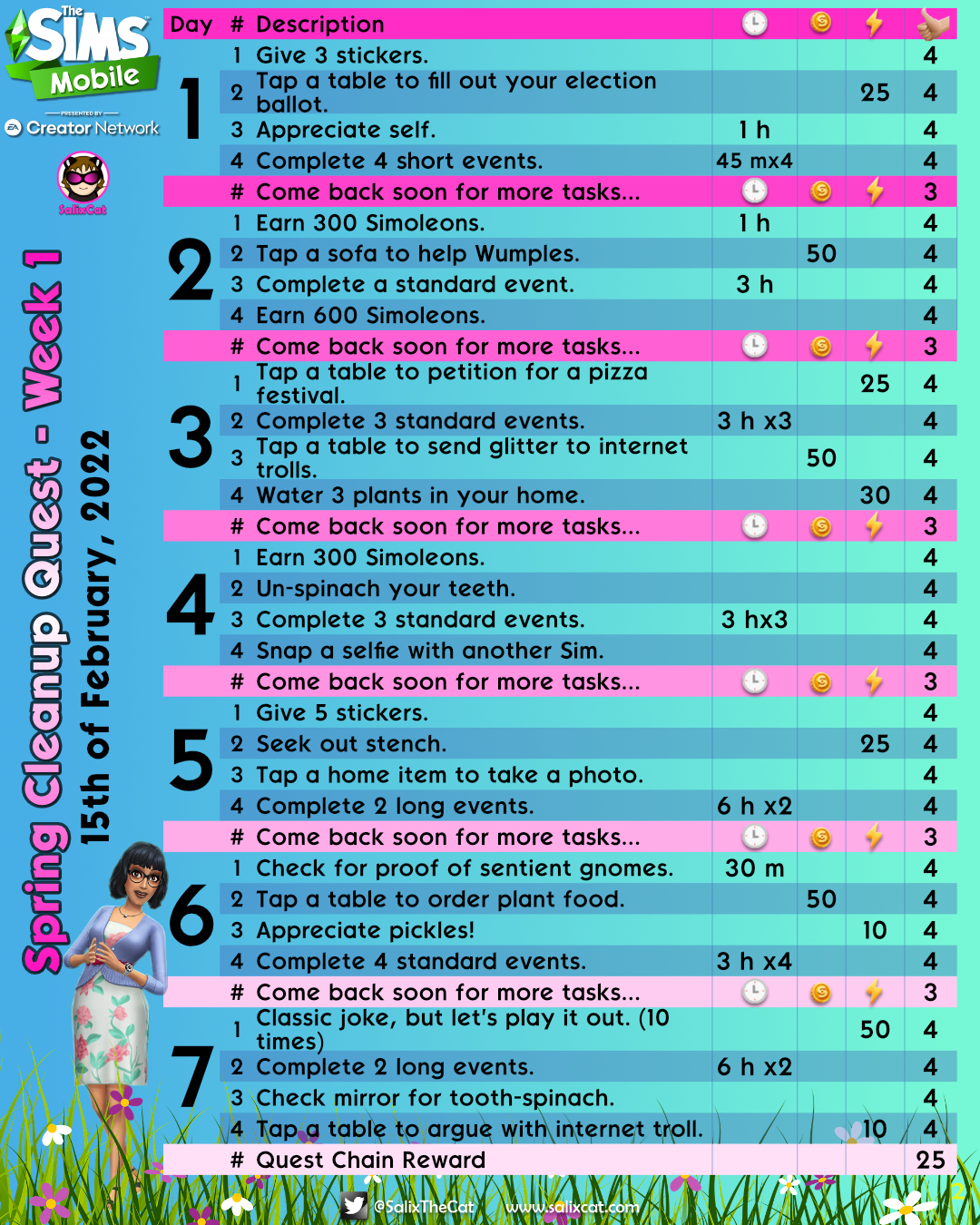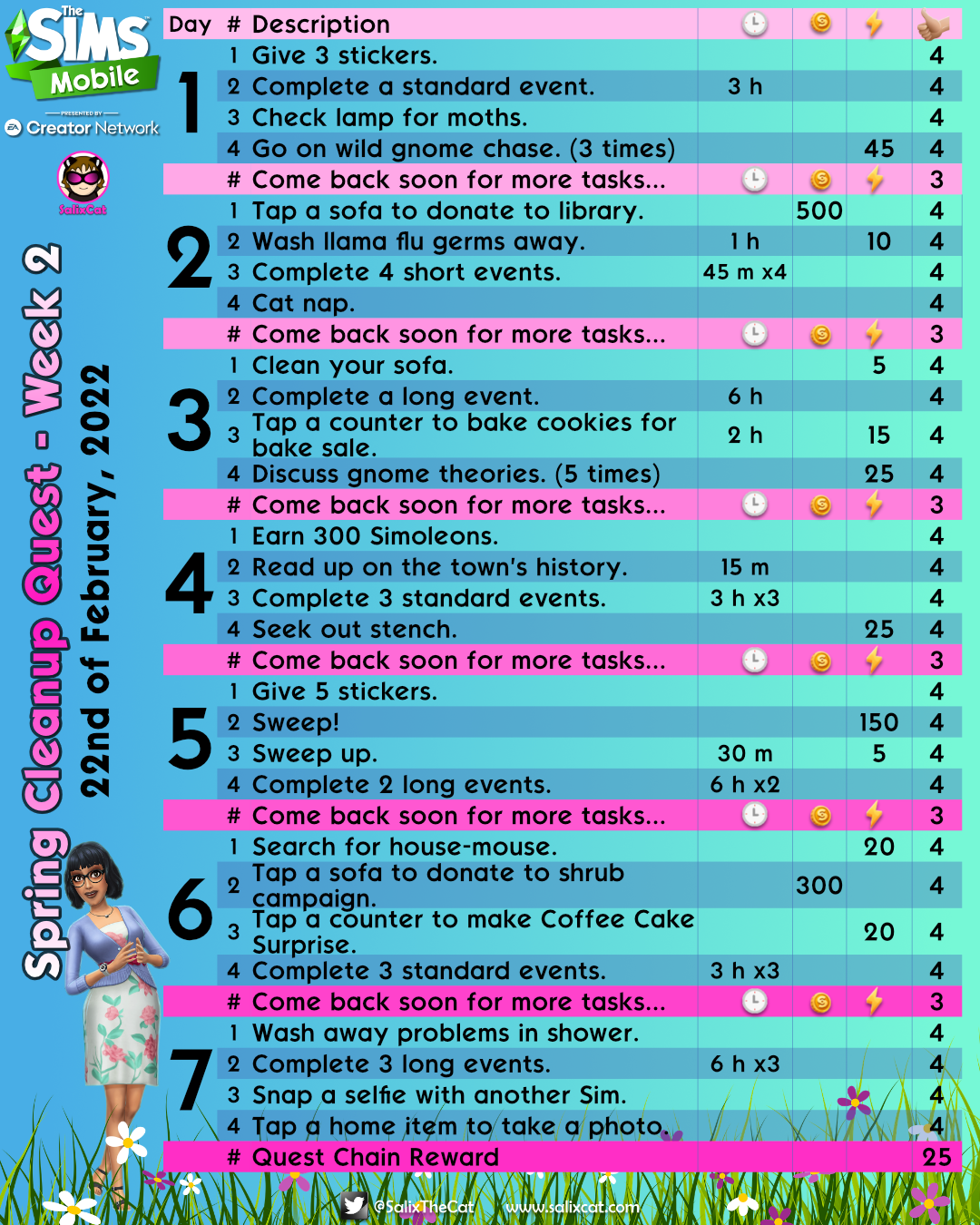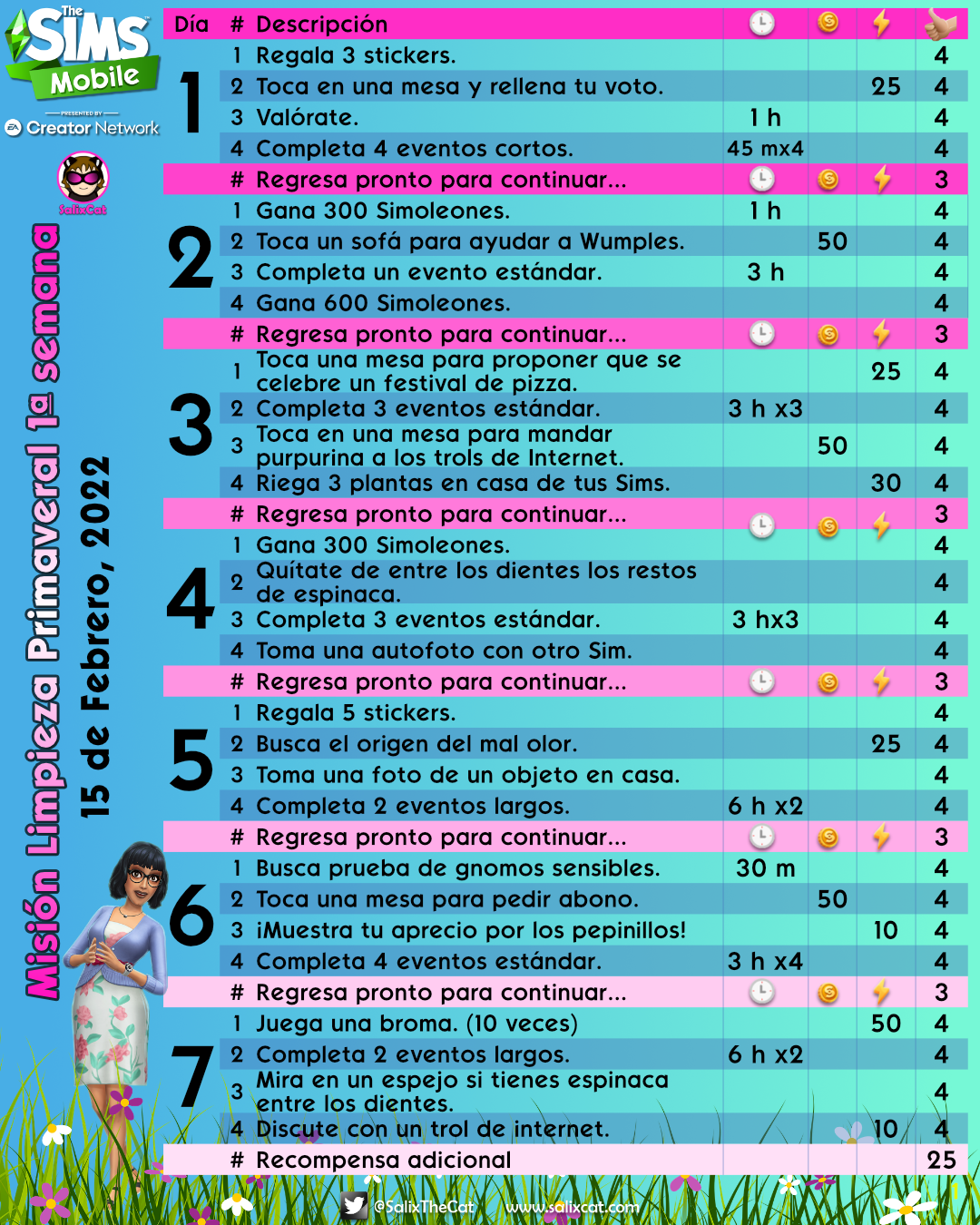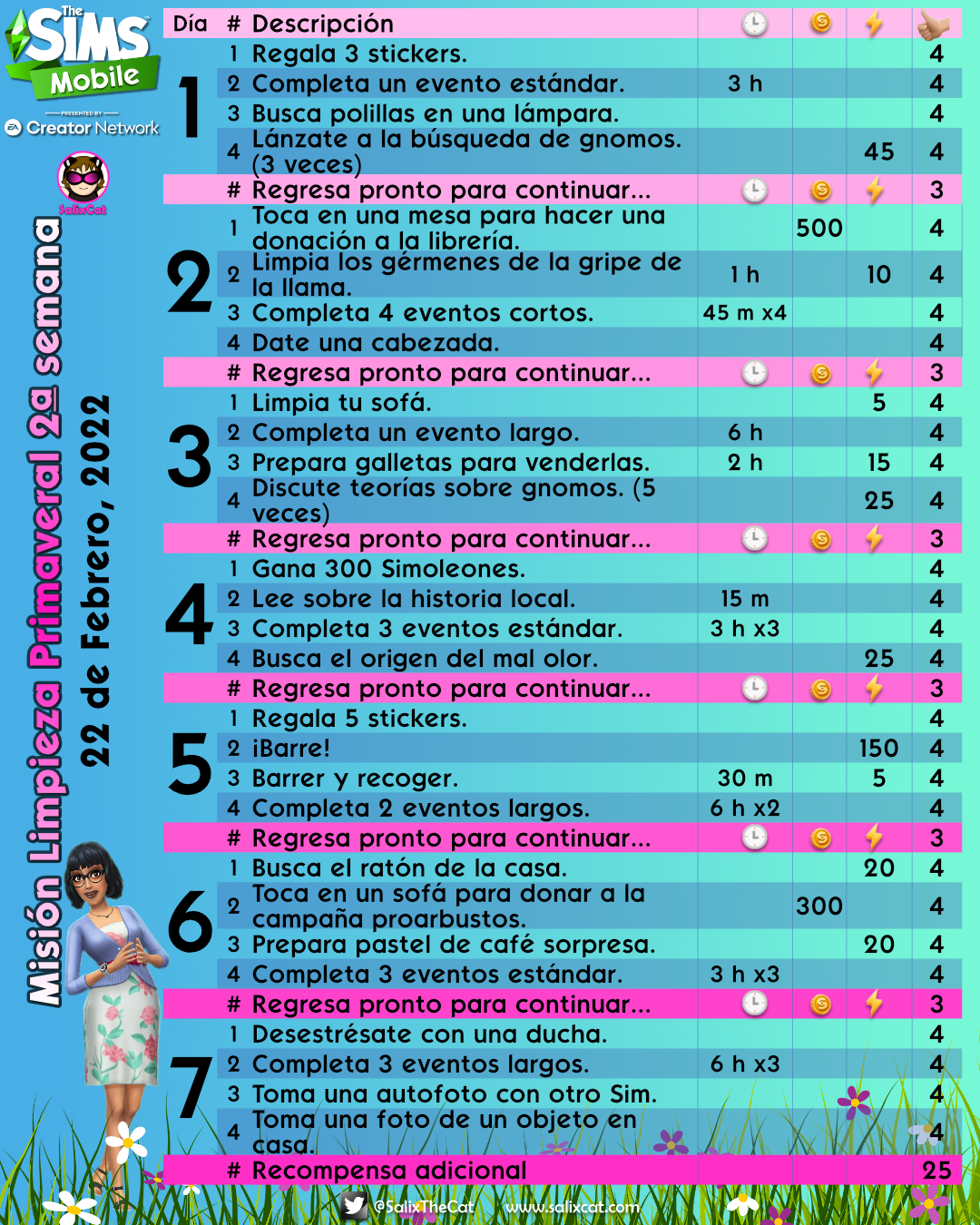 ---
Thanks to EA Content Creators and Firemonkeys for providing early access to this content. 
If you have questions or comments you can find me on Twitter @SalixTheCat or on Answers HQ forums in Spanish and in English.