English:
The Winter warm-up event is coming back the 3rd of may 2020. Event duration: 7 days.
The beach towels, reward of step 1 produce 125 duckies each 12 hours so remember to take them out of inventory as soon as the event starts. Players who have done this event previously will get a duplicate. Unfortunately having 2 beach towels will not double the number of duckies produced.
We can collect duckies from Winter warm-up events, regular events and Llama Zoom.
Duckie bags that contain duplicates of furniture and other build mode items will give a duplicate of the item. According to the information I have, there will be compensation for duplicates of CAS items.
Home Spa event (part 7 and 16) is a 12 hours event with 9 hours cooldown.
Swanky swimwear and Spa-side snacks (part 10, 14, 19 and 22) are 6 hours events with 6 hours cooldown.
Save 5 stickers for part 9. 
---
Español:
El evento Calentamiento Invernal y la misión vuelven el 3 de mayo. Duración del evento: 7 días.
Las toallas que ganamos al completar el paso 1 producen 125 patitos, así que recuerda sacarla del inventario y sitúala en la casa de tus Sims inmediatemente comience el evento. Los jugadores que estén repitiendo el evento ganarán un duplicado de las toallas pero desafortunadamente no producirán el doble de patitos.
Podremos reunir patitos en las actividades especiales del evento, en eventos de relación, profesión o afición, y también en los eventos Llama Zoom.
Las bolsas de patitos que contengan duplicados de muebles y otros artículos del modo construir nos darán un duplicado del artículo. Parece ser que recibiremos compensasión por duplicados de artículos de CUS (ropa). Deberemos esperar a que el evento comience para ver qué sucede.
El evento Día de Spa Casero (paso 7 y 16) tienen una duración de 12 horas y está disponible para reiniciar cada 9 horas.
Los eventos Bañadores Elegantes y Snacks para Spas tienen una duración de 6 horas y estás disponibles para reiniciar cada 6 horas.
Guarda 5 stickers para el paso 9.
Walkthrough in English
Tap on the image to enlarge: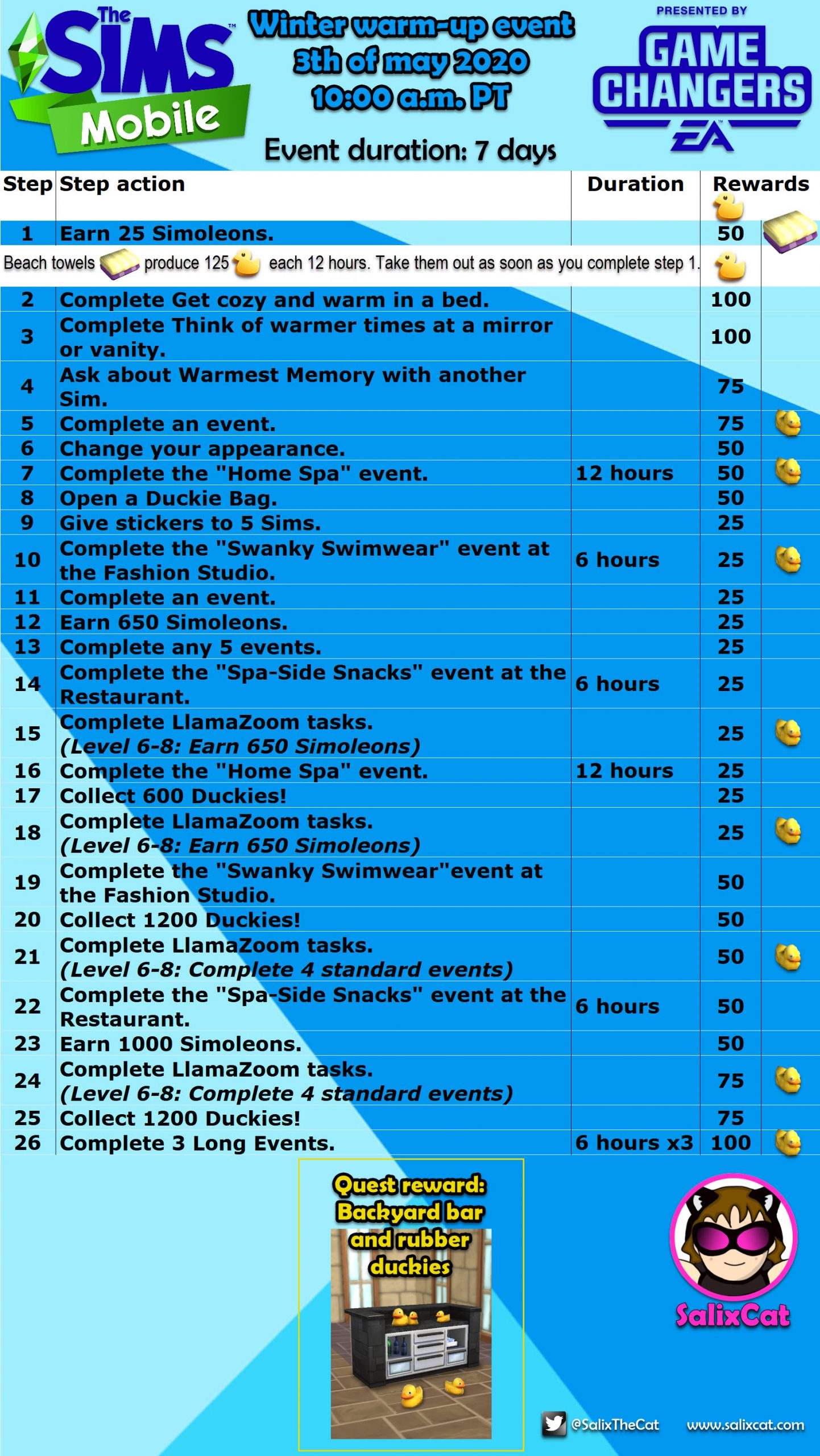 Guía de la misión en Español
Pulsa en la imagen para ampliar: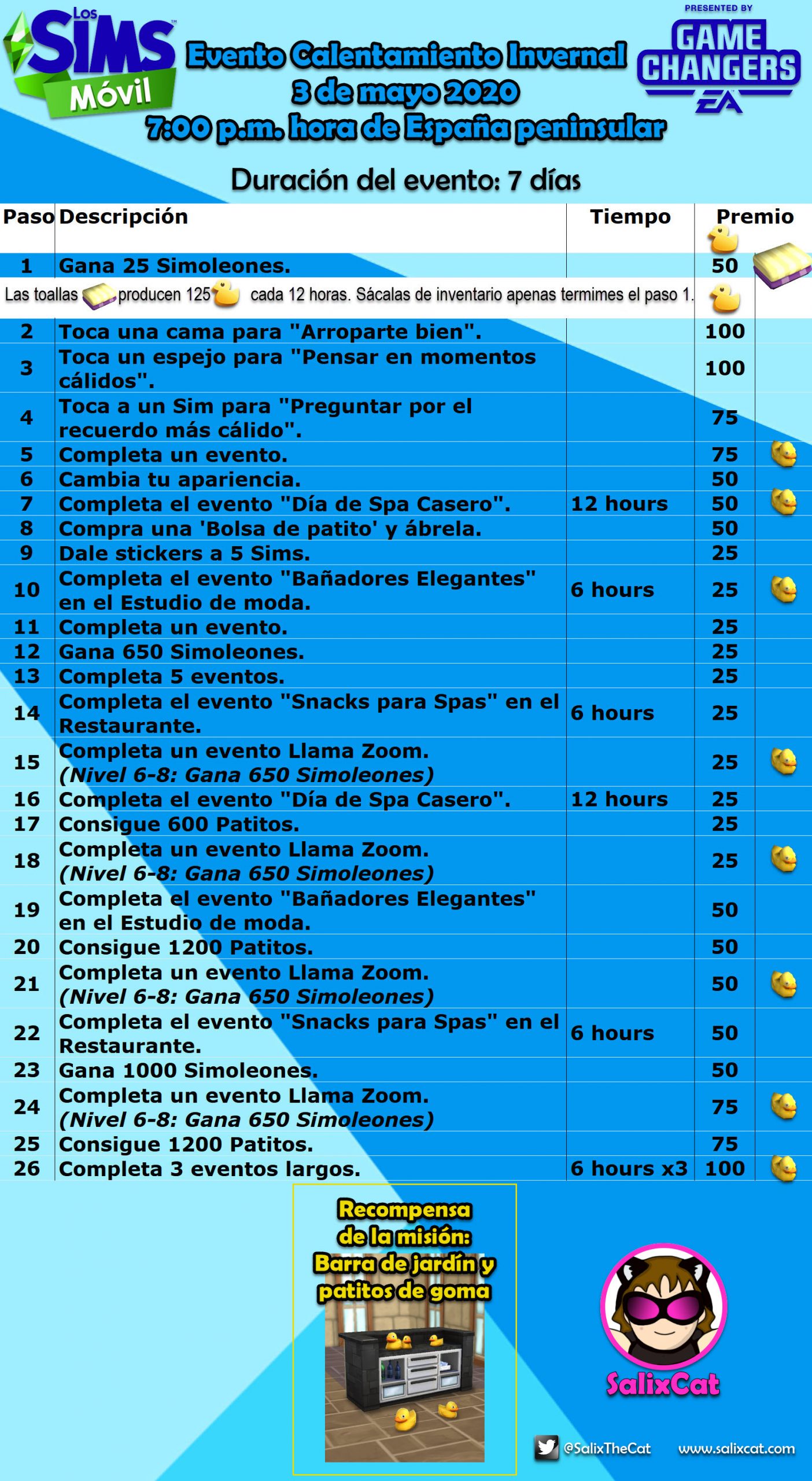 Event rewards / Premios del evento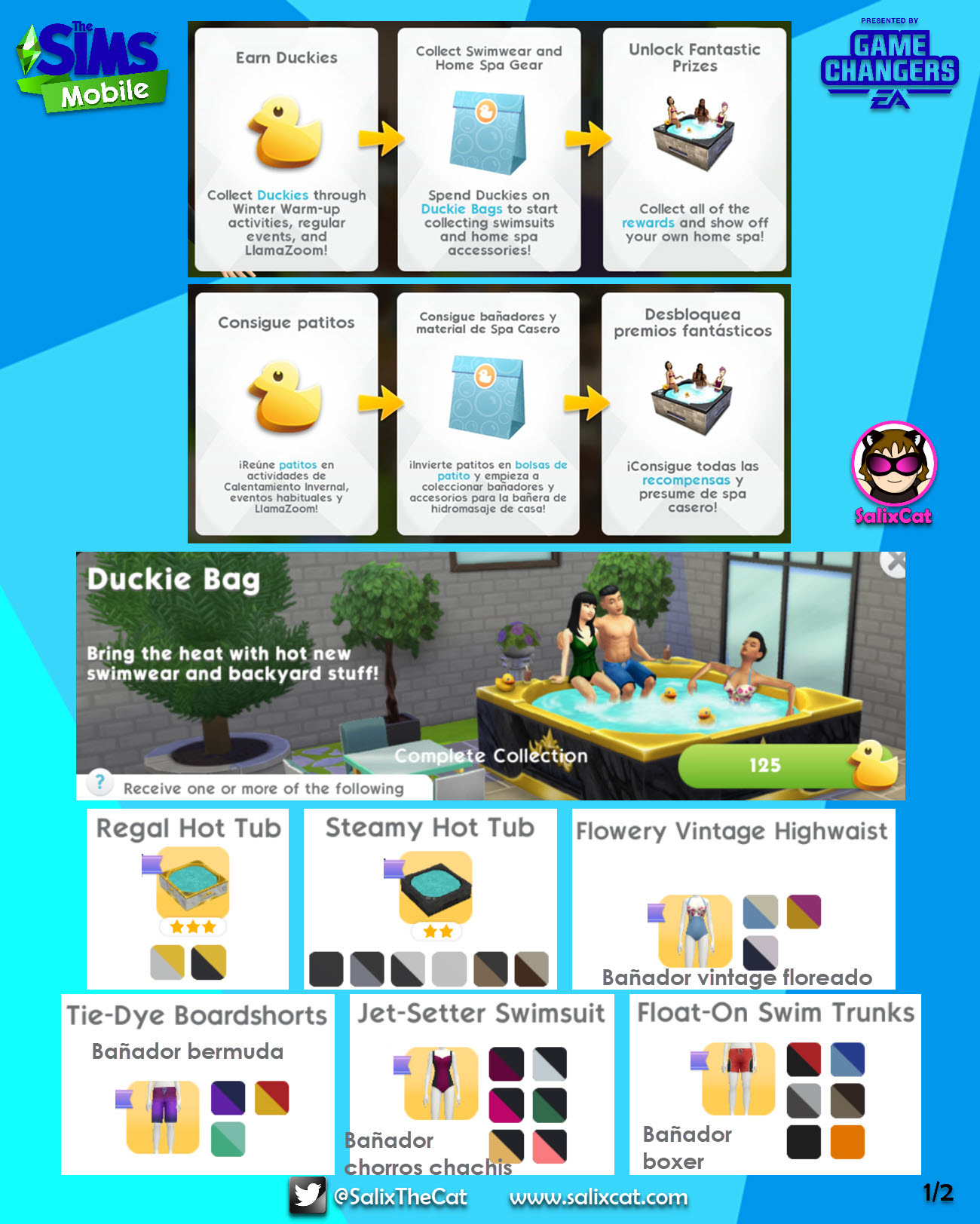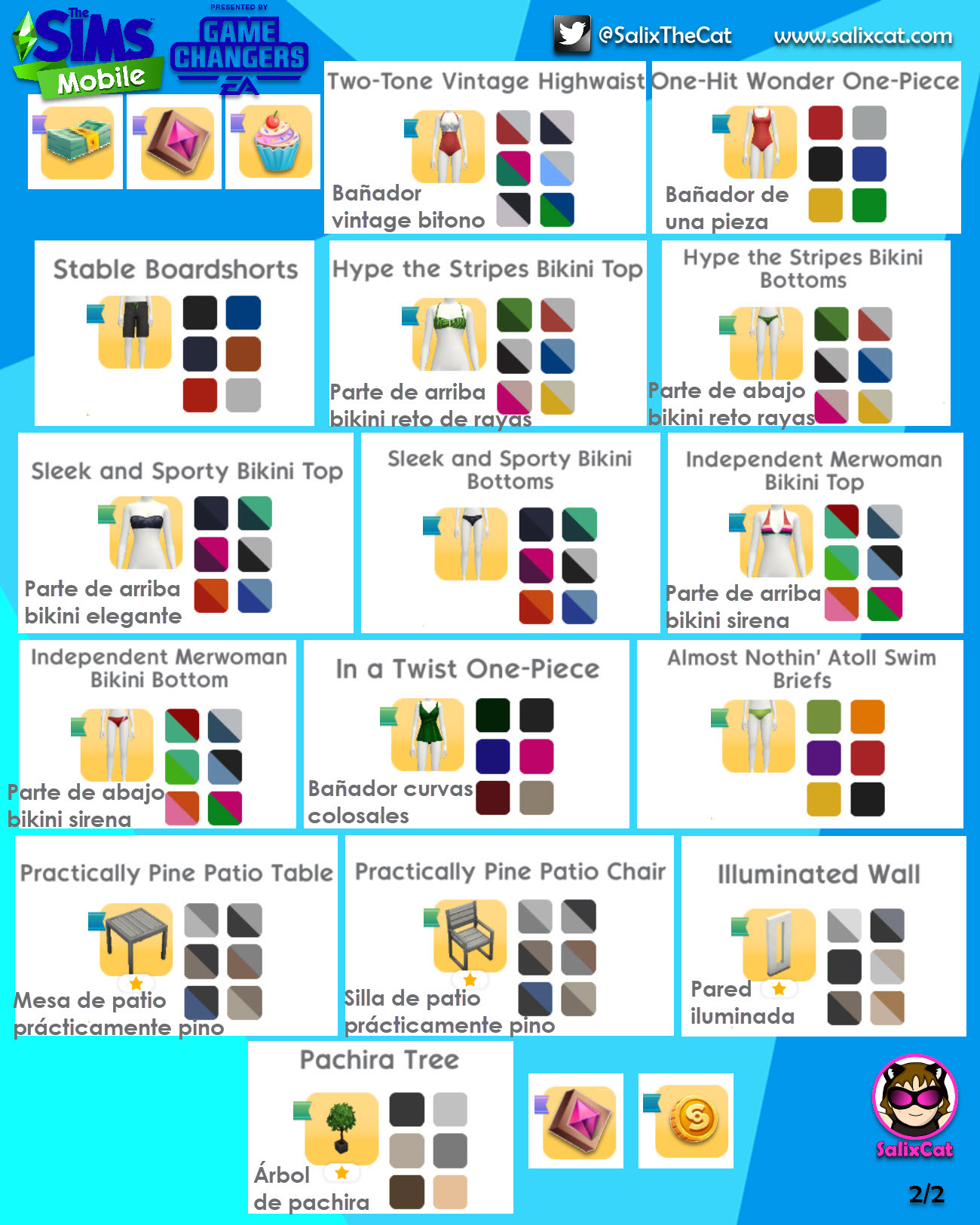 ---
Thanks to EA Game Changers and Firemonkeys for the information I have used in this event walkthrough. 
If you have questions or comments you can find me on Twitter @SalixTheCat or on Answers HQ forums in Spanish and in English.
---
Gracias a EA Game Changers y Firemonkeys por suministrar la información que he usado en esta guía. 
Si tienes preguntas o comentarios puedes encontrarme en mi grupo de Facebook The Sims Mobile – Salix Cat – Grupo Oficial, en Twitter @SalixTheCat o en el foro de Answers HQ en Español y en Inglés.