ENGLISH:
The Super Throwdown League Event is coming back 1st of June, 10:00 a.m. PT. The duration of the event is 7 days.
The event includes a 27 step quest:
The Light of Victory is the reward we will get as soon as we complete step 1. Take this item out of inventory as it will produce 125 participation ribbons each 12 hours.
Final reward of this quest is the Great Barback juice-off, a party item with 75 party point actions.
How to collect ribbons?
Continue collecting ribbons by completing the three special events that award ribbons.
Use a cupcake on each of the special events and you will get extra ribbons.
Llama Zoom will award 250 ribbons.
Random normal events will also award ribbons.
Event packs
These two packs will be available during the duration of the event. For more details see the infographics below.
Throwdown bonus bundle pack
Championship chests pack
You will find the quest walkthrough in English, rewards overview, packs and more details about this event on the infographics below.
Good luck! 😊
Our friend Michiiiro has made a beautiful video as an introduction of the event. You can find it on Michiiiro's YouTube channel.
---
ESPAÑOL:
El evento Liga de Retos Estivales vuelve el 1° de junio a las 10:00 a.m. hora de España continental. La duración es de 7 días.
El evento incluye una misión de 27 pasos:
Al completar el primer paso de la misión ganaremos la Luz de la Victoria. Este artículo dará 125 lazos de participación cada 12 horas, así que saca La Luz de la Victoria de tu inventario y ponlo inmediatamente en algún lugar de la casa de tus Sims para que empieces a recoger lazos.
La recompensa final de la misión es el Expositor de zumos. Este es un artículo de fiesta, con acciones que dan 75 puntos en las fiestas.
¿Cómo podremos recoger lazos de participación?
Podremos continuar recogiendo lazos así hayamos terminado la misión. Los tres eventos especiales de la Liga de Retos Estivales estarán disponibles durante los siete días de duración del evento.
Usa un pastelito en los eventos especiales para ganar lazos adicionales.
Ganaremos 250 lazos al completar eventos Llama Zoom.
Los eventos de profesión, relación y afición también darán lazos, pero esto será de forma aleatoria.
Packs del evento
Habrá dos packs disponibles. Los detalles se encuentran en las infográficas. Los packs son:
Pack Lote de Bonificación Caracter Competitivo IM
Pack Cofres de Campeonato IM
Encontrarás más información en Español en las infográficas debajo de éstas líneas.
¡Mucha suerte! 😊
Nuestra amiga Michiiiro ha hecho un hermoso video como introducción al evento.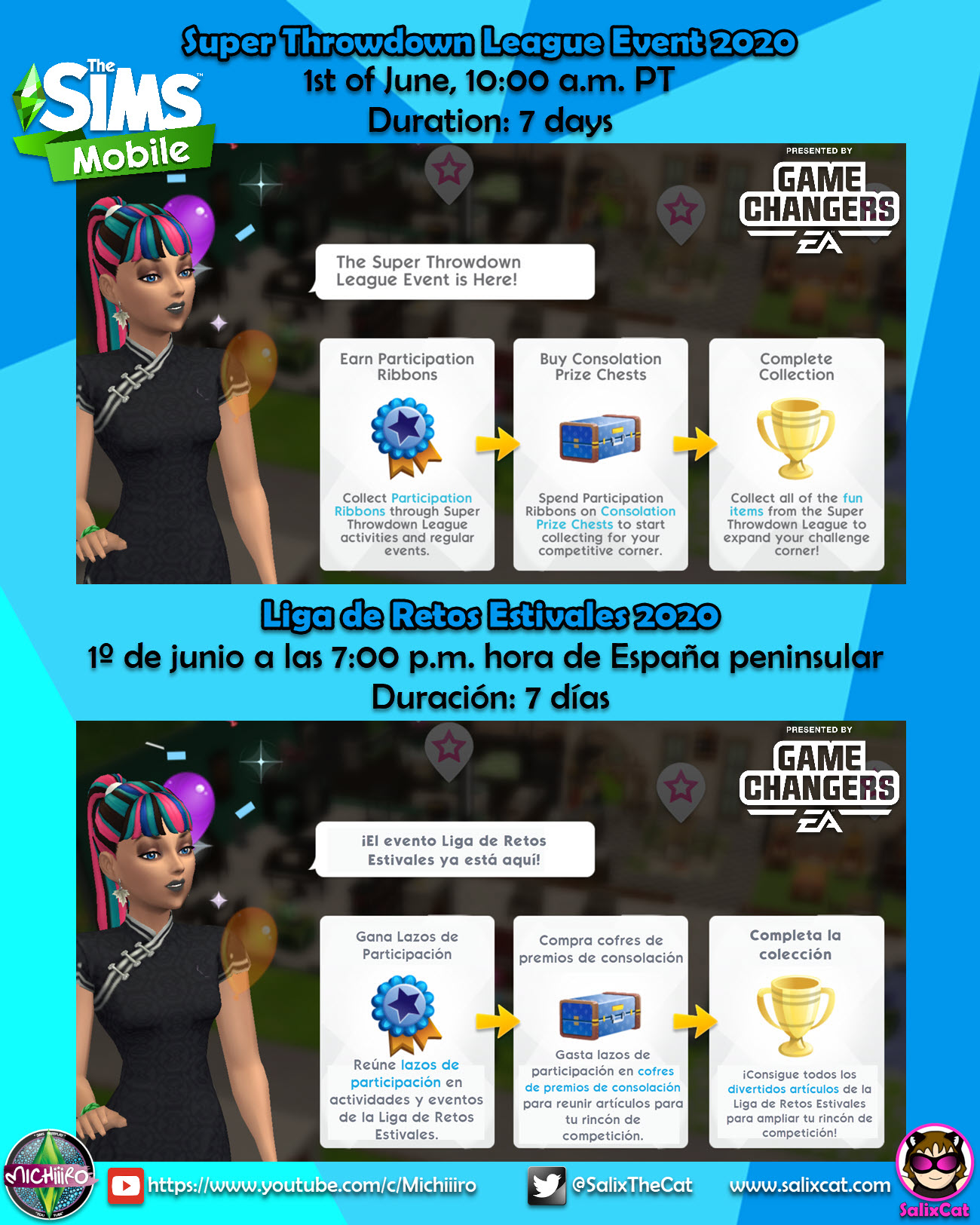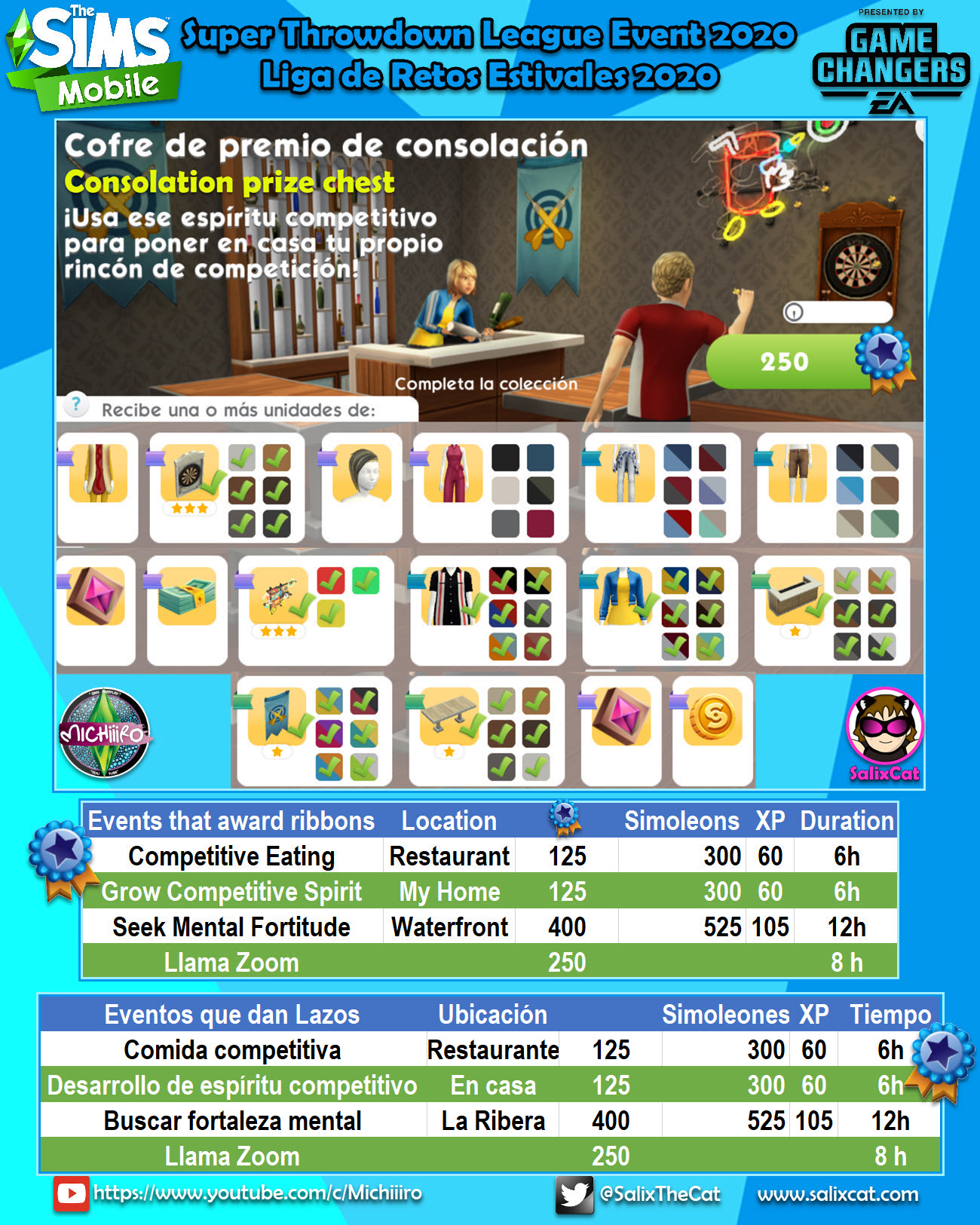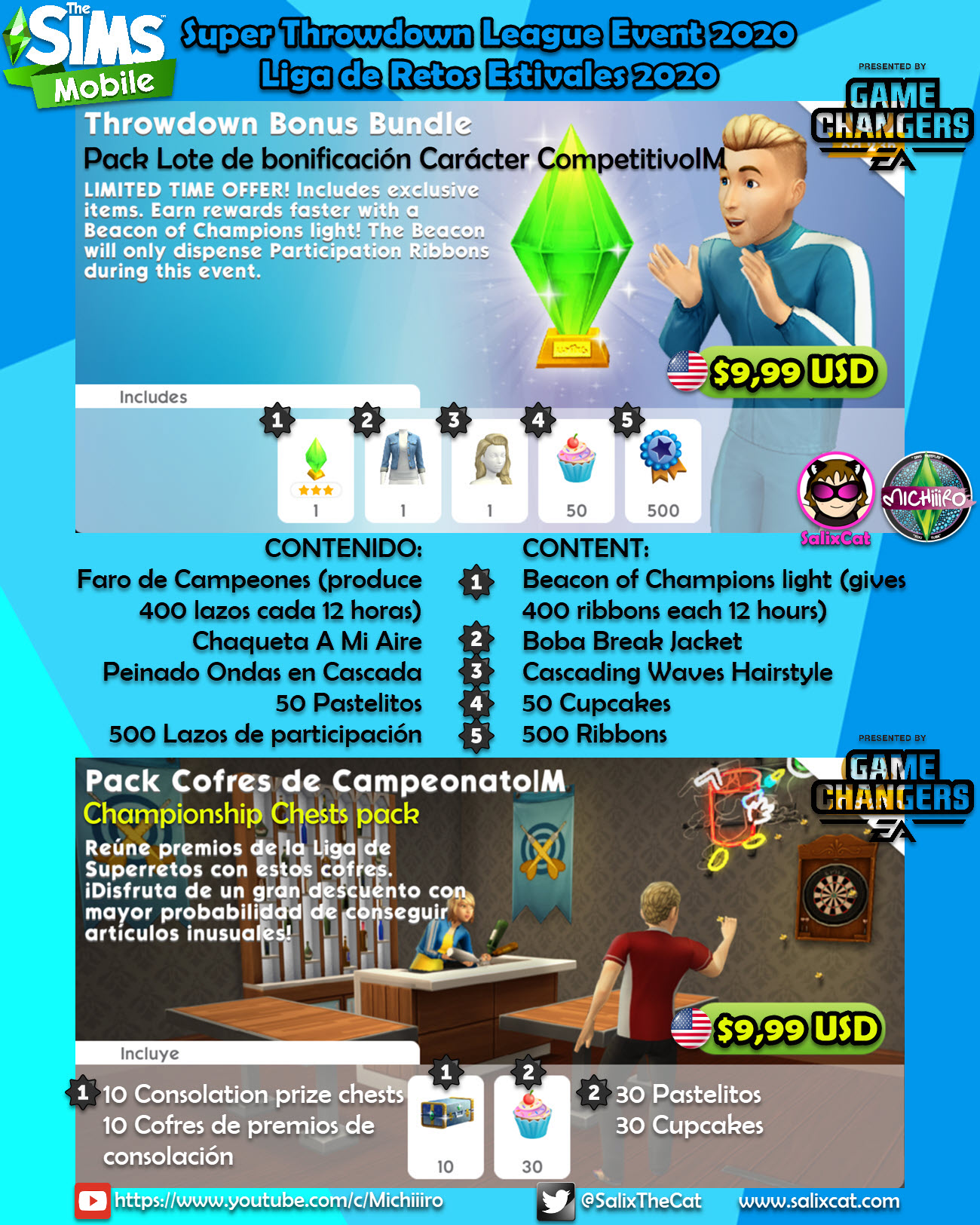 Thanks to EA Game Changers and Firemonkeys for the information about this event. You can find the event video on Michiiiro's channel.
If you have questions or comments you can find me on Twitter @SalixTheCat or on Answers HQ forums in Spanish and in English.
---
Gracias a EA Game Changers y Firemonkeys por suministrar la información que he usado en esta guía. En el canal de Michiiiro encuentras el video acerca del evento.
Si tienes preguntas o comentarios puedes encontrarme en mi grupo de Facebook The Sims Mobile – Salix Cat – Grupo Oficial, en Twitter @SalixTheCat o en el foro de Answers HQ en Español y en Inglés.